Tagged "University of Idaho"

For 18 months, a serial child molester named Steven James Sitler called Moscow home. He boarded with a Christ Church family. He attended Doug Wilson's New St. Andrews College. How did the community and members of Christ Church learn of Steven Sitler's crimes? On a local blog and, later, on an Internet community chat group. What's wrong with this picture? Everything. . . .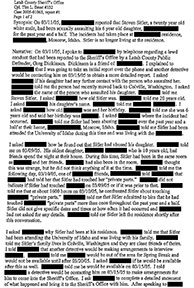 Synopsis: On 03/1.1/05, [Ground Zero Father] reported that Steven Sitler, a twenty year old white male, had been sexually assaulting his 6 year old daughter, [redacted] for the past year and a half. The incidents had taken place at [Ground Zero] residence, [Ground Zero], Moscow, Idaho. Sitler is no longer living at the residence. . . .